EVPN - Symmetric IRB & Super Fabrics
Super Fabric
A Super Fabric expands the maximum number of switches from 32 to 140 using four pods. We use the concept of Pods, with each pod containing up to a maximum of 32 switches.
Concepts and Terminology Used in Super Fabrics
Terminology
•Local – A subnet is deemed Local to a POD if it is only configured on that POD.
•Remote – A subnet is deemed Remote if it is not LOCAL on that POD.
•Stretched – A subnet is deemed Stretched if it is present on two or more PODs.
•IRB – Integrated Routing and Bridging
•EVPN – VXLAN Ethernet VPN
•VRF – Virtual Routing and Forwarding
•VNI – VXLAN Network Identifier
Refer to the Manager EVPN and Super Fabric sections for more information.
Topologies Used in Super Fabrics
Use Case 1 - EVPN - Symmetric IRB - Simplified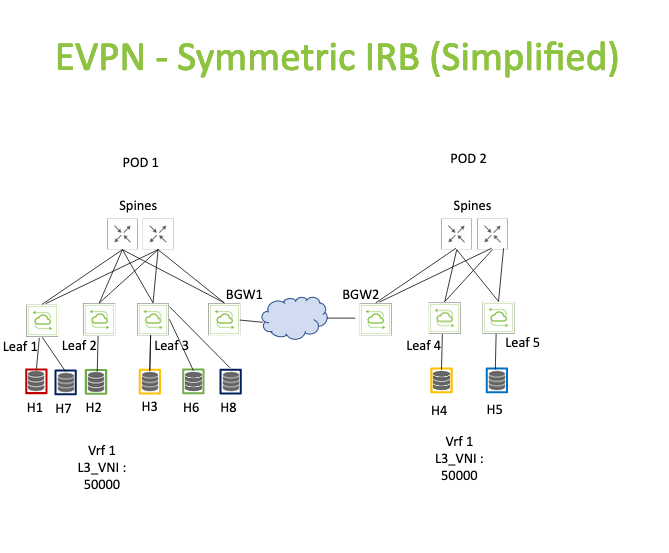 EVPN - Symmetric IRB (Simplified)
Use Case 2 - EVPN - Symmetric IRB - Rules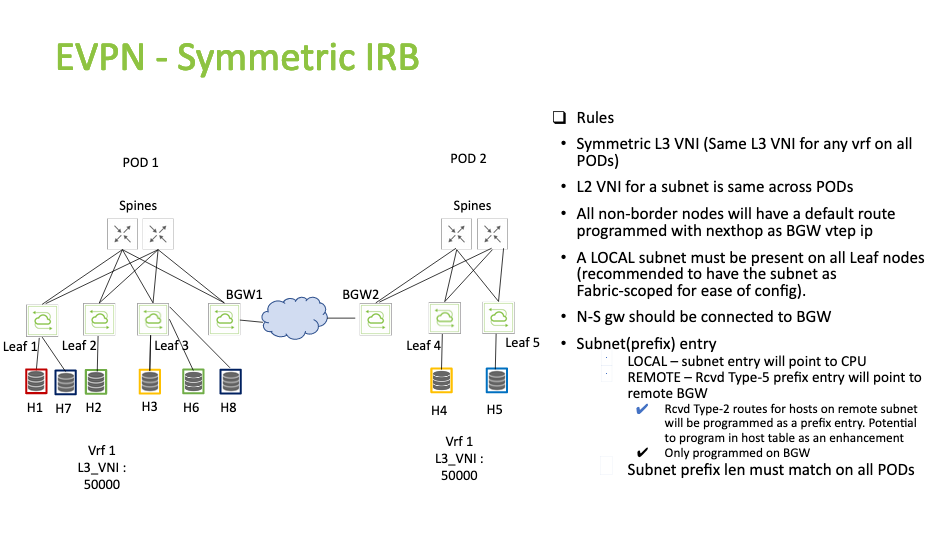 EVPN - Symmetric IRB Rules
Use Case 3 - EVPN - Symmetric IRB - Remote Subnet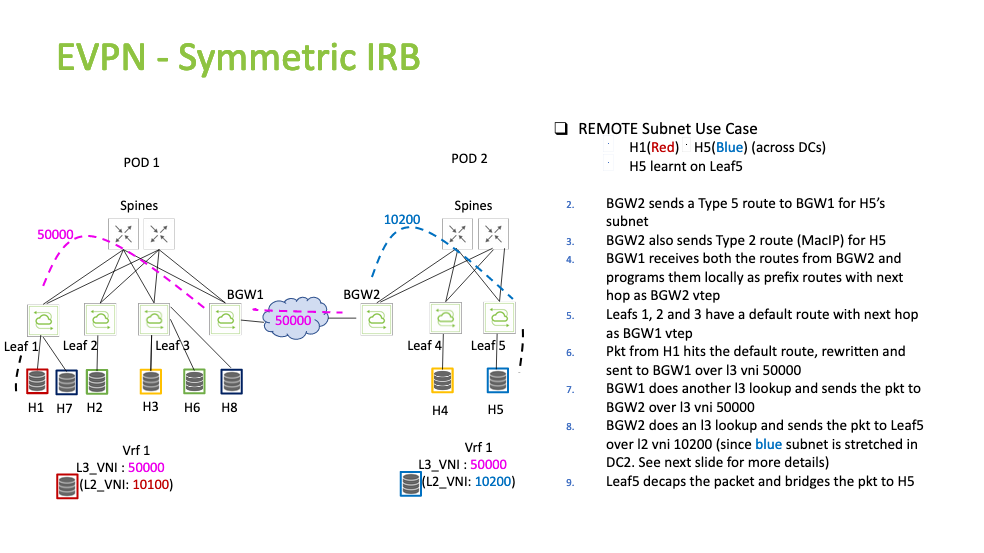 EVPN - Symmetric IRB Remote Subnet
Use Case 4 - EVPN - Symmetric IRB - Stretched Subnet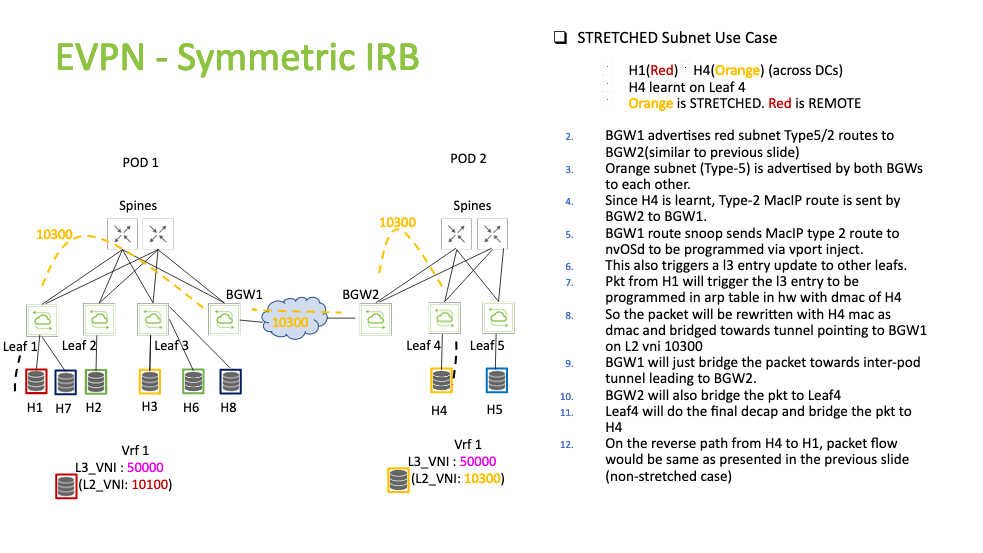 EVPN - Symmetric IRB Stretched Subnet
Use Case 5 - EVPN - Symmetric IRB - Stretched Subnet - Three Pods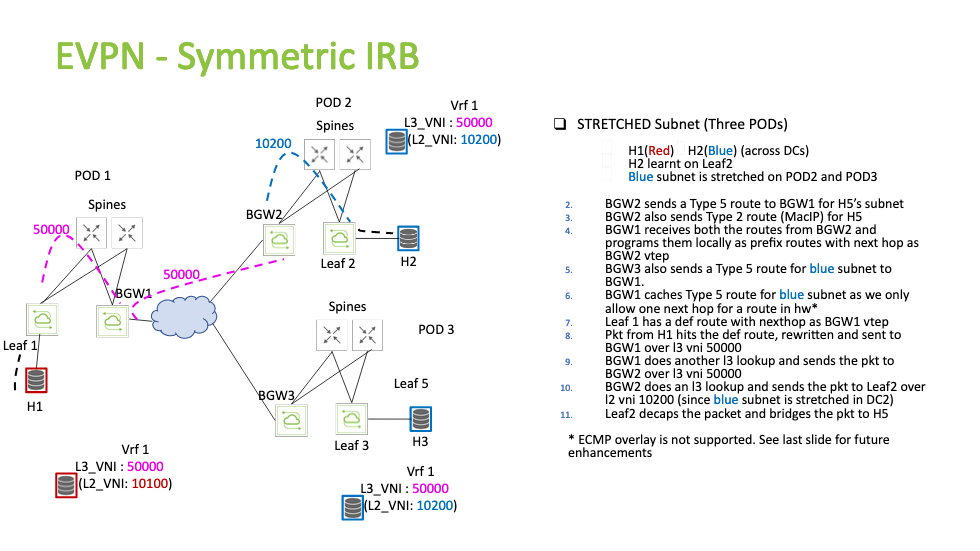 EVPN - Symmetric IRB Stretched Subnet - Three Pods
Use Case 6 - EVPN - Symmetric IRB with ARP - Stretched Subnet - Three Pods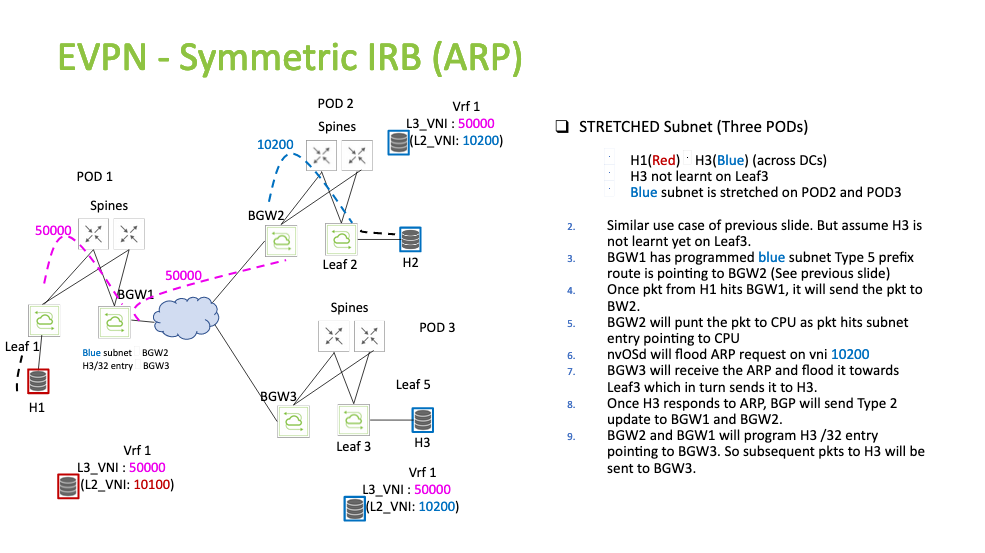 EVPN - Symmetric IRB / ARP Stretched Subnet - Three Pods