Settings
UNUM Configuration Menu
There are features and functions used in UNUM Manager and UNUM Analytics that are common throughout the user interface (UI). Please refer to the Common Functions section for more information on the use of these functions and features.
The UNUM Configuration Menu provides a convenient way to quickly setup the Pluribus UNUM™ Unified Management, Automation and Analytics Platform.
UNUM Help Feature

UNUM Help Button
Rolling over the Help Button icon reveals the help page title.
Click on the Help Button icon to open the specific help file.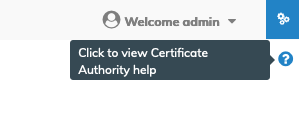 UNUM Help Button Rollover
The help file page is displayed in a separate browser tab.
Note: The help page files may contain links to external resources. An Internet connection is required to access these external resources.
Settings

UNUM Platform Configuration Menu
Selecting Menu Bar →

launches the Settings and Configuration menu. Configuration items include:
•Server Certificates – SSL Certs
•Auth Server – AD or LDAP Authentication Servers.
•License – UNUM platform application licenses.
•Manage Users – User and Administrator accounts.
•Manage Groups - Create Fabric Resource Groups (FRG), User Groups (UG) and assign roles, privileges to simplify management of Fabric and resources.
•Archiver – Archiver provides a convenient method of archiving UNUM analytics and configuration data.
•Projects – Projects allows the creation of Virtualwire Device Under Test Lab Projects.
•Audit Logs – Review log data from switches
•Database Health – Information of overall UNUM platform system health
By selecting on any of the configuration items you are taken directly to that dashboard.
Note: Upon the initial login and after a new OVA install of UNUM, a visual notification alarm may be presented on the dashboard indicating no licenses have been activated.
License Activation – Activate Licenses
To remove the visual alarm condition activate a license.

UNUM Platform Configuration Visual Alarm