Hardware Overview
High Capacity Appliance Hardware Overview
The 2RU Arista NetVisor UNUM High Capacity Appliance is a unique server system. With four system boards incorporated into a single chassis acting as four separate server nodes.
Server Nodes
Each of the four server boards act as a separate server node in the system.
As independent server nodes, each may be powered off and on without affecting the others.
In addition, each server node is a hot-swappable unit that may be removed from the rear of the chassis.
The server nodes are connected to the server back-plane by means of an adapter card.
Note: A guide pin is located between the upper and lower server nodes on the inner chassis wall. This guide pin also acts as a "stop" when a server node is fully installed. If too much force is used when inserting a server node this pin may break off. Take care to slowly slide a server node in until you hear the "click" of the locking tab seating itself.
Each Server node consists of:
Processors
Dual Intel® Xeon® E5-26x series processors.
Memory
Sixteen DIMM slots supporting 256 GB of ECC RDIMM (Registered DIMM) memory.
Serial ATA
A Serial ATA controller is integrated to provide dual 1.2 TB SSD Drives.
Warning: The SATA drives are physically hot-swappable units, however doing so during regular operation results in loss of data in the Arista NetVisor UNUM High Capacity Appliance.
Recommended Procedure: Under normal operation, power down the server node and data redistribute across the nodes, and then the SATA drives can be safely removed without data loss.
Onboard Controllers/Ports
An Intel Gigabit (100/1000/10000 Mb/s) Ethernet dual-channel controller is included. Using an AOC Card not a supported configuration.
I/O ports include a VGA (monitor) port, two USB 3.0 ports, an IPMI dedicated LAN port and two Ethernet ports, Eth0 and Eth1. Eth0 is used for Management, Eth1 is used for internal server node to server node communications.
Eth1 must be isolated from the public network.
Other Features
Other onboard features that promote system health include onboard voltage monitors, auto-switching voltage regulators, chassis and CPU overheat sensors, server node manager software and BIOS rescue.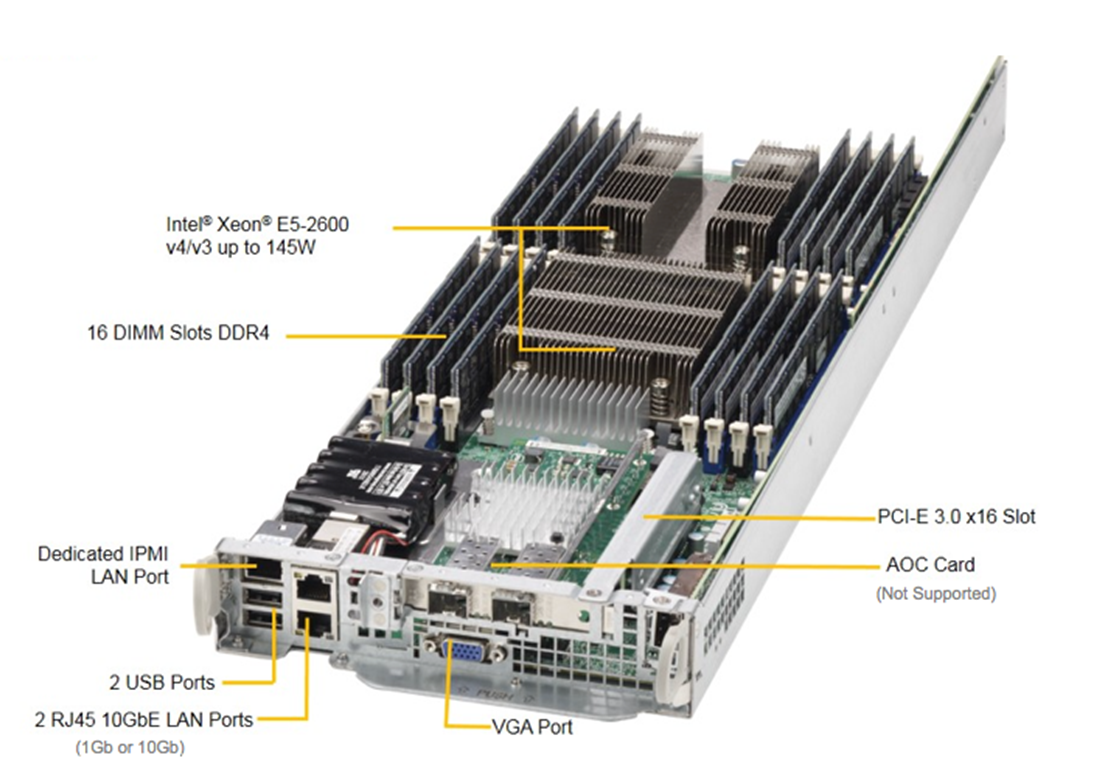 Server Nodes
Server Chassis Features
The following is a general outline of the main features of the appliance chassis.
System Power
Each chassis model includes redundant, hot-plug high-efficiency 80-plus Platinum certified power supplies, rated at 2000 Watts. In the unlikely event your power supply fails, replacement is simple and can be accomplished without tools. An amber light will be illuminated on the power supply when the power is off. An illuminated green light indicates that the power supply is operating.
Cooling System
The chassis contains four system fans, which are powered from the back-plane.
Mounting Rails
The Arista NetVisor UNUM High Capacity Appliance includes a set of quick-release rails, and can be placed in a rack for secure storage and use. To setup your rack, follow the step-by-step instructions included in the SMCI manual.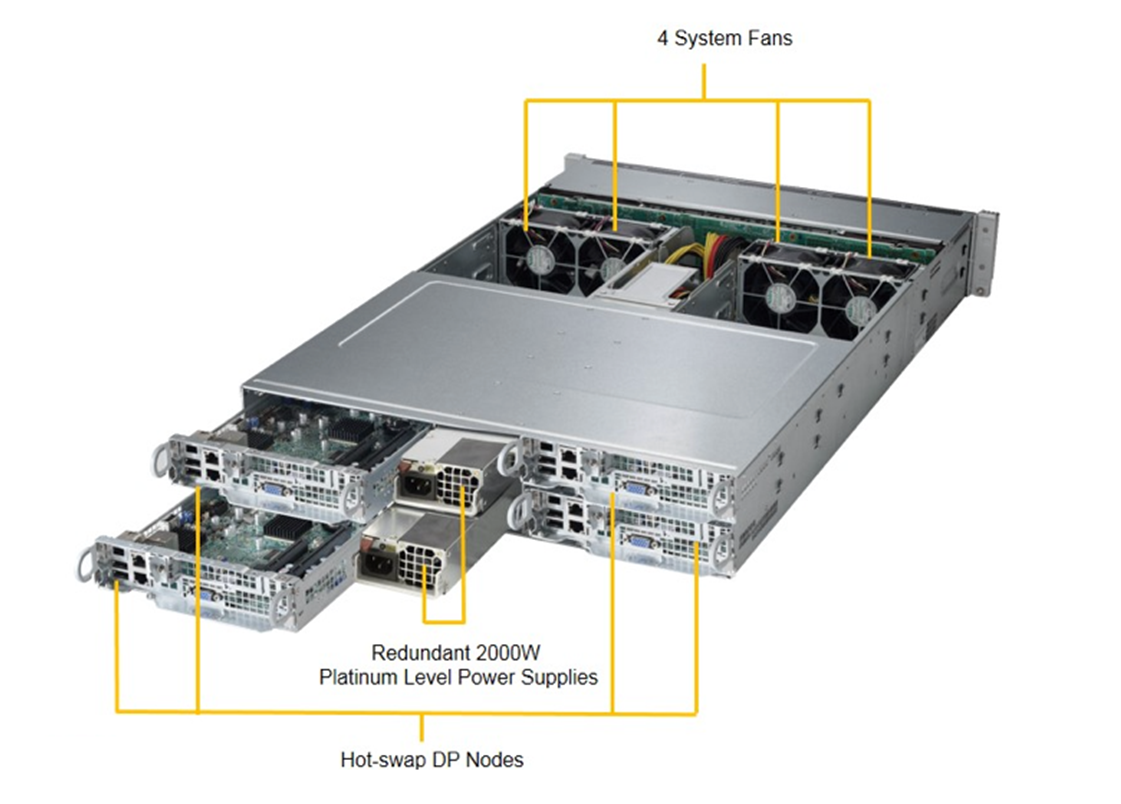 Server Chassis Features