vNV Deployment Scenarios and UNUM
vNV Deployment Scenarios and UNUM
As the Pluribus Networks Unified Cloud Fabric™ scales to accommodate more services, such as multi-tenancy and analytics, additional resources can be beneficial. In these cases, centralizing the services in a fabric node with more CPU and memory than a typical network switch provides a powerful and cost-effective means of scaling.
Enter Virtual Netvisor or vNV, a virtual machine running Pluribus Networks' Netvisor® ONE operating system. Once deployed and added to a fabric, vNV enables administrators to offload multiple vNET managers and other services from physical network nodes, freeing up switch resources.
Deployment Options and Use Cases
Virtual Netvisor installs on a VMware ESXi server as a virtual machine. Used as a separate fabric node, vNV connects to the fabric through the management network and supports both greenfield and brownfield environments.
Virtual Netvisor typically deploys with UNUM™, Pluribus Networks' fabric management, analytics, and automation platform, to move resource consumption from a fabric node known as a seed switch onto the more powerful vNV virtual machine. vNV is especially helpful in environments with high numbers of traffic flows.
Virtual Netvisor - Six Switch, Leaf and Spine Fabric in UNUM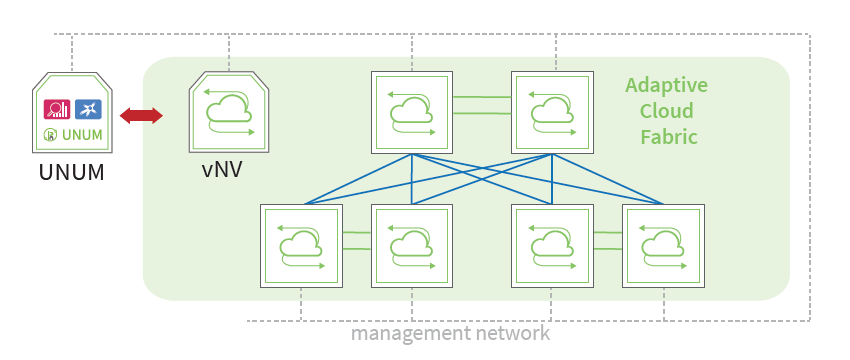 Virtual Netvisor - Deployment Scenario Example 1
Virtual Netvisor - Pluribus Unified Cloud Fabric with Third-party Spines and three vNET Managers hosted in a Virtual Netvisor Instance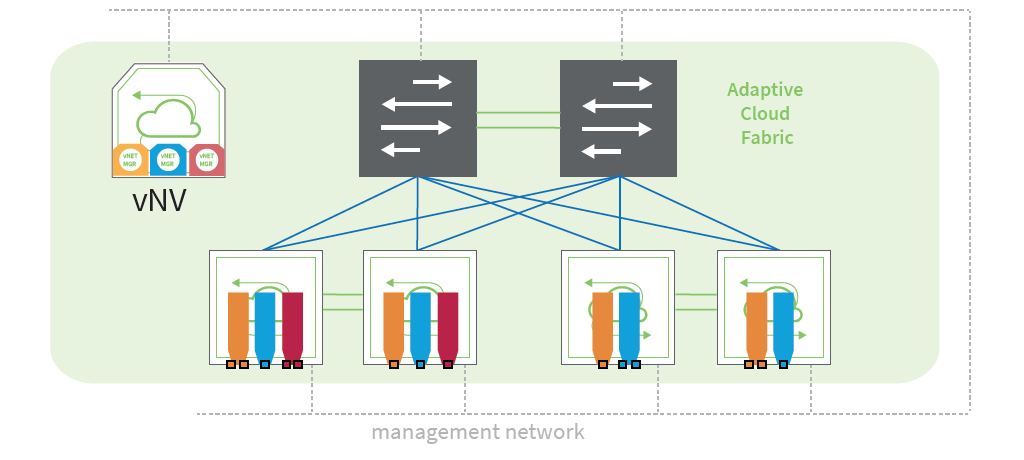 Virtual Netvisor - Deployment Scenario Example 2