Alerts / Reports
Alerts / Reports
There are features and functions used in UNUM Manager and UNUM Analytics that are common throughout the user interface (UI). Please refer to the Common Functions section for more information on the use of these functions and features.
UNUM Alerts / Reports provides a suite of analysis tools designed to analyze data with search capabilities on data collected from UNUM collectors, packet capture analytics and monitoring capabilities.
For more details please refer to the nvOS and Netvisor ONE Configuration Guides at www.pluribusnetworks.com/support/technical-documentation.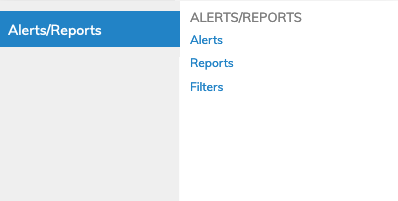 Alerts / Report Menu
Please refer to the following links for the use of each specific feature:
•Alerts – Alerts
•Reports – Reports
•Filters – Filters