Switch Analytics
Switch Analytics
There are features and functions used in UNUM Manager and UNUM Analytics that are common throughout the user interface (UI). Please refer to the Common Functions section for more information on the use of these functions and features.
Switch Analytics enables administrators to monitor system, traffic, and connectivity statistics, manage Syslog notifications, and display active endpoints or vPorts statistics. The base UNUM license includes Switch Analytics.
For more details please refer to the nvOS and Netvisor ONE Configuration Guides at www.pluribusnetworks.com/support/technical-documentation.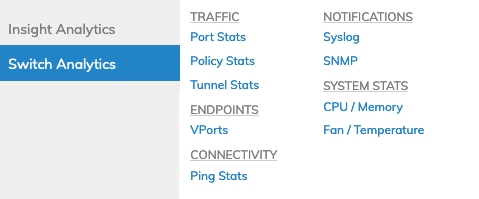 UNUM Switch Analytics Application Menu
Selecting Analytics → Switch Analytics displays all Switch Analytics functions within UNUM. These include:
•Traffic – Port Stats , Policy Stats and Tunnel Stats
•Endpoints – vPorts
•Notifications – Syslog and SNMP
•System Stats – CPU / Memory, Fan / Temperature
•Connectivity – Ping Stats