Transactions
Transactions
There are features and functions used in UNUM Manager and UNUM Analytics that are common throughout the user interface (UI). Please refer to the Common Functions section for more information on the use of these functions and features.
UNUM Manager provides valuable tools for maintenance of Fabric and Switches.
For more details please refer to the nvOS and Netvisor ONE Configuration Guides at www.pluribusnetworks.com/support/technical-documentation.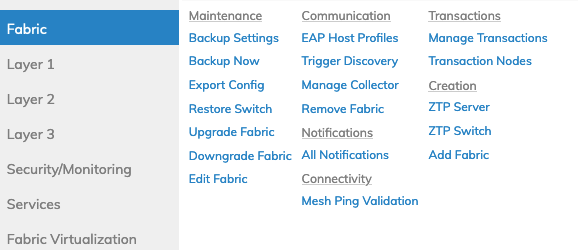 Manage Fabric Transactions Dashboard
Select Manager → Fabric → Transactions to access the maintenance features within UNUM. These include:
•Manage Transactions – Manage Unified Cloud Fabric transactions.
•Transaction Nodes – View transaction nodes in the Fabric.