Fabric
Fabric
There are features and functions used in UNUM Manager and UNUM Analytics that are common throughout the user interface (UI). Please refer to the Common Functions section for more information on the use of these functions and features.
UNUM Manager provides for the set up and configuration of Fabric settings for switches. You need to select a Switch.
For more details please refer to the nvOS and Netvisor ONE Configuration Guides at www.pluribusnetworks.com/support/technical-documentation.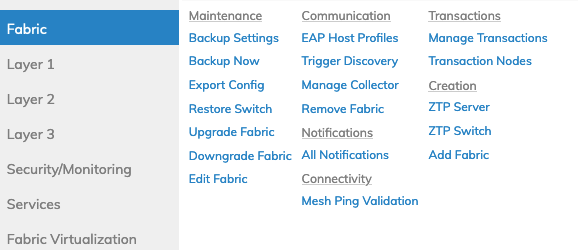 Manage Fabric Dashboard
Selecting Manager → Fabric displays all Fabric functions within UNUM. These include:
•ZTP – ZTP Server, ZTP Switch, Add Fabric
•Communication – EAP Host Profiles, Trigger Discovery, Manage Collector, Remove Fabric
•Maintenance – Backup Settings, Backup Now, Export Config, Restore Switch, Upgrade Fabric, Downgrade Fabric, Edit Fabric
•Connectivity – Mesh Ping Validation
•Notifications – All Notifications
•Transactions – Manage Transactions, Transaction Nodes
•Remove Switch (not in menu) – Remove a failed switch from a Fabric.
•Switch Export Config (not in menu) – Export a single switch configuration and save to a file.
•Cluster Re-Peer (not in menu) – Replace a failed cluster switch and rebuild the cluster.