Arista NetVisor UNUM Licensing and Activation Methods
NetVisor UNUM Licensing and Activation Method Flow Chart
Workflows
The following workflow describes the requisite steps to download, install and license NetVisor UNUM.
1)User supplies local PC.
2)Login to Customer Portal Account with provided credentials.
3)Download NetVisor UNUM installer image (OVA).
4)Upload to ESXi platform.
5)Install and configure NetVisor UNUM.
6)Decide on one of the two following licensing methods (consult the flow chart and workflows below).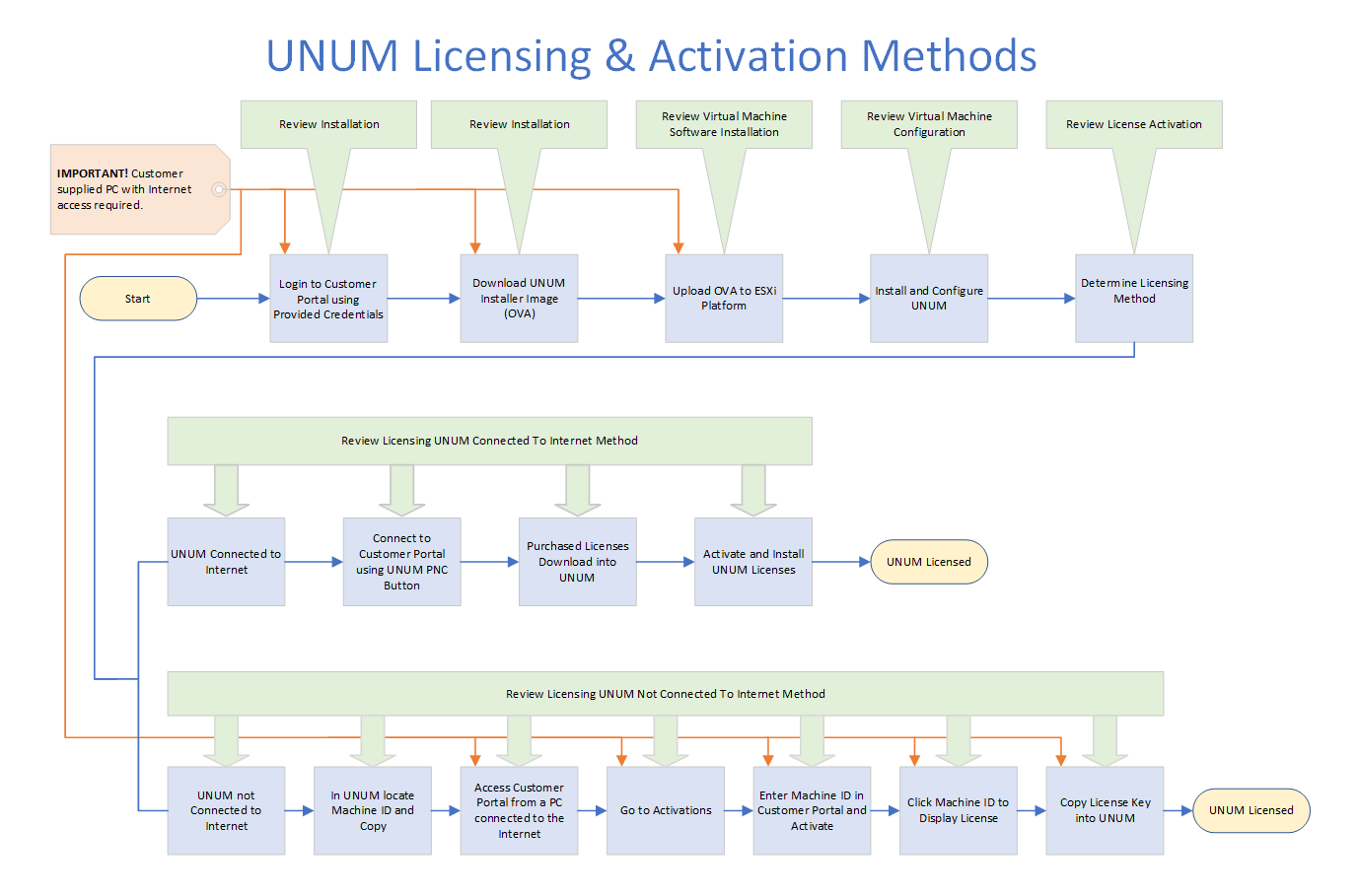 NetVisor UNUM Licensing and Activation Method Flow Chart
NetVisor UNUM Licensing - NetVisor UNUM Connected To Internet
1)Connect to the Customer Portal by clicking on the PN Cloud button and entering your Customer Portal credentials.
2)Any license purchases will download into NetVisor UNUM.
3)Activate and install the NetVisor UNUM license(s).
4)NetVisor UNUM licensed.
NetVisor UNUM Licensing - NetVisor UNUM Not Connected To Internet
1)Locate and copy the NetVisor UNUM Machine ID using the Install License Key button from NetVisor UNUM dashboard.
2)Log into Customer Portal from a machine connected to the Internet.
a)Use your provided support credentials. If you do not have credentials for the Customer Portal, please Contact Support.
b)You may be prompted to re-enter your login credentials. Once you are logged in, click on the Licensing Tab.
3)Proceed to Activations.
4)Enter the copied NetVisor UNUM Machine ID into the Customer Support Portal Licensing Dashboard and click Activate.
5)Once activated, click the Machine ID and your license will be displayed.
6)Copy the license key from the Licensing Dashboard and paste it into NetVisor UNUM.
7)NetVisor UNUM licensed.