License Activation
License Activation
There are features and functions used in Arista NetVisor UNUM and Insight Analytics that are common throughout the user interface (UI). Please refer to the Common Functions section for more information on the use of these functions and features.
Select Menu Bar →

to activate a license by clicking on the License link in the configuration menu.

NetVisor UNUM Dashboard Visual Notification Alarm
Selecting the visual notification alarm and clicking the License tab provides a status update.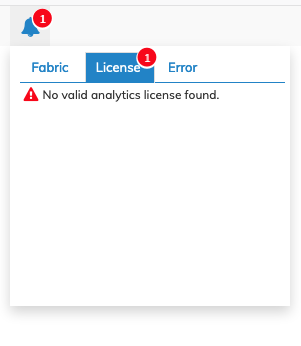 NetVisor UNUM License Visual Alarm Details
Instructions on activating licenses for NetVisor UNUM are detailed here in the User Guide.
Determine the appropriate method for your particular configuration.
NetVisor UNUM Licensing - NetVisor UNUM Connected To Internet
1)Connect to the Customer Portal by clicking on the PN Cloud button and entering your Customer Portal credentials.
2)Any license purchases will download into NetVisor UNUM.
3)Activate and install the NetVisor UNUM license(s).
4)NetVisor UNUM licensed.
NetVisor UNUM Licensing - NetVisor UNUM Not Connected To Internet
1)Locate and copy the NetVisor UNUM Machine ID using the Install License Key button from NetVisor UNUM dashboard.
2)Log into Customer Portal from a machine connected to the Internet.
a)Use your provided support credentials. If you do not have credentials for the Customer Portal, please Contact Support.
b)You may be prompted to re-enter your login credentials. Once you are logged in, click on the Licensing Tab.
3)Proceed to Activations.
4)Enter the copied NetVisor UNUM Machine ID into the Customer Support Portal Licensing Dashboard and click Activate.
5)Once activated, click the Machine ID and your license will be displayed.
6)Copy the license key from the Licensing Dashboard and paste it into NetVisor UNUM.
7)NetVisor UNUM licensed.
Activated Licenses
Once the licenses are activated the visual notification alarm is removed and replaced by a display of the installed license.
Click on the alarm icon and select the License tab.
Note: NetVisor UNUM preserves license data across subsequent upgrades to NetVisor UNUM.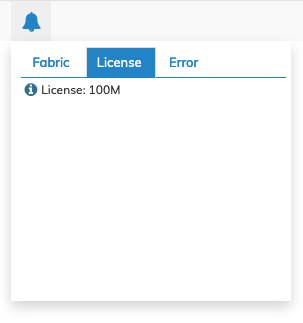 NetVisor UNUM License Information - Valid Installed License