Configure Multiple Switches
Configure Multiple Switches
There are features and functions used in Arista NetVisor UNUM and Insight Analytics that are common throughout the user interface (UI). Please refer to the Common Functions section for more information on the use of these functions and features.
ALL Switches
The All Switches feature provides the ability to configure all switches in a Fabric versus one-by-one. This approach dramatically simplifies switch and Fabric management.
As illustrated in the following example, click the down arrow

icon in the Switch selection box. The configuration screen updates and displays all switches in the Fabric.
Select All to configure all switches simultaneously.
Note: Not all NetVisor UNUM functions support the All Switches feature. In that event, the All Switches selection is not available as an option.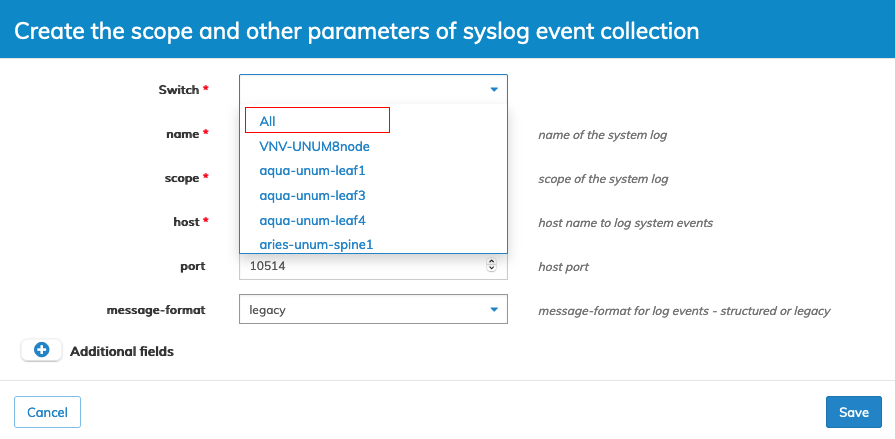 ALL Switches Function
All Switches Functionality
Note: LHN denotes Left-Hand Navigation pane.
| | | | |
| --- | --- | --- | --- |
| Switch Drop-down Selection | Fabric Scope | Local Scope | Cluster Scope |
| All - Super Fabric selected in LHN | The feature execution occurs on the Seed Switches in the Fabrics comprising the Super Fabric. | The feature execution occurs on all the switches. | Not Allowed. |
| All - Fabric/Pod selected in LHN | The feature execution occurs on the Seed Switches in the Fabric. | The feature execution occurs on all the switches. | Not Allowed. |
| Fabric Group | The feature execution occurs on the Seed Switches in the Fabric. | The feature execution occurs on all the switches in the Fabric comprising the Group. | Not Allowed. |
| Switch Group | Not Allowed. | The feature execution occurs on all the switches comprising the Group. | The feature execution occurs on all the switches in the Group. |
| Switch - Super Fabric selected in LHN | The feature execution occurs on the selected switch and the Seed Switch of the other Fabrics comprising the Super Fabric. | The feature execution occurs on the selected switch. | The feature execution occurs on the selected switch. |
| Switch - Fabric/Pod selected in LHN | The feature execution occurs on the selected switch. | The feature execution occurs on the selected switch. | The feature execution occurs on the selected switch. |