vPorts and Connections
vPorts & Connections
There are features and functions used in Arista NetVisor UNUM and Insight Analytics that are common throughout the user interface (UI). Please refer to the Common Functions section for more information on the use of these functions and features.
NetVisor OS uses vPort (or virtual port) as Layer 2 entries managed by the software and associated with ports where a node performs MAC address learning. vPorts contain information such as the MAC and IP address of a host, the VLAN and the connected port, the state, and other parameters.
In a fabric, a node only sends status updates for vPorts that are part of the fabric, which means that it sends updates only for the states of the hosts directly connected to that node. NetVisor OS uses"owned vPorts" to represent directly connected hosts.
On the NetVisor UNUM Topology dashboard, the

icon signifies the switch/router contains NetVisor OS vPorts, while a number,

, indicates the number of connections running between the devices.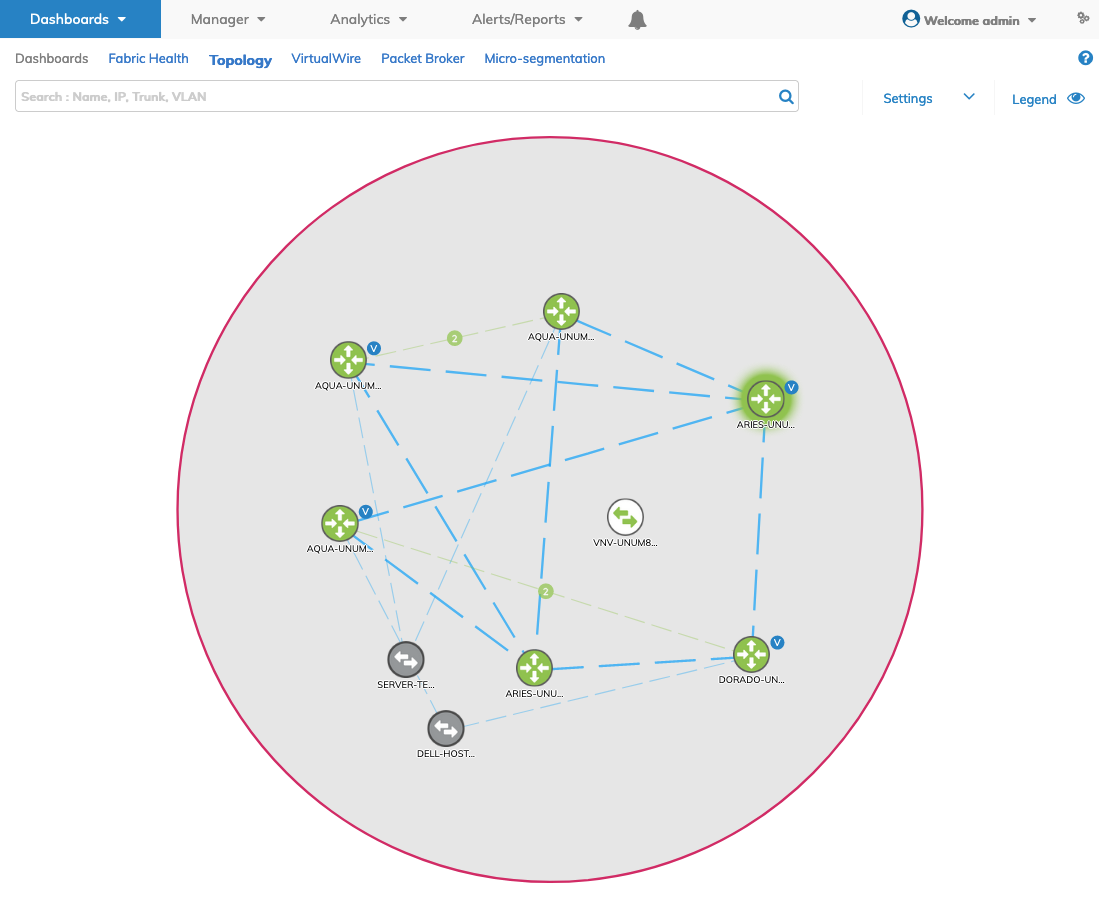 NetVisor UNUM Platform Global - Topology Map Device Connections Example
Connections
Click on the number

icon to display details of the connection type along with Port Number and bi-directional traffic passed over the connection between the two devices in terms of percentage. The Search field updates with the link information.

NetVisor UNUM Platform Global - Topology Map Connection Details
Additional parameters include visual indicators providing critical information about switch load, interface traffic and interface errors in Red, Yellow or Green.
| | | | | |
| --- | --- | --- | --- | --- |
| Indicator | | | | |
| Green | = | 0% | < | 70% |
| Yellow | >= | 70% | < | 90% |
| Red | >= | 90% | <= | 100% |
A Search feature allows you to quickly locate traffic connections by Port Number or Speed.
Enter the applicable search text in the search field. The results field updates automatically when a search criteria match is found. For example, Port:35.
Select the applicable search result. The search results are displayed.
To clear the search field, click the

icon.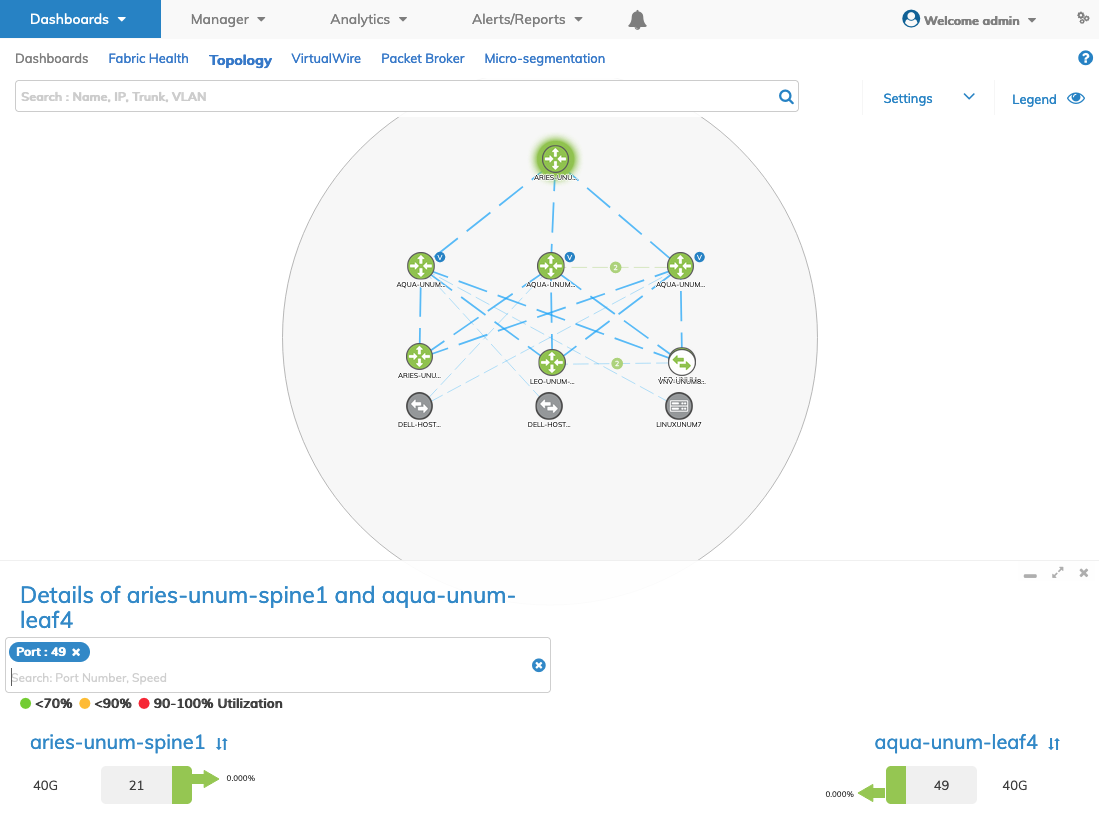 NetVisor UNUM - Topology Map Search Details Example
Clicking on a Port search result displays the Port Properties for the port, as illustrated in the example below.

NetVisor UNUM - Topology Map Port Properties Example
Modify Port Properties
Modify the Attribute and its associated to make the required changes to the selected Port. Enter pertinent details in the Description field.
Click Submit to continue or Cancel to return the previous screen without making any changes to the port properties.

NetVisor UNUM - Topology Map Port Properties Example - Description Update
vPorts
Clicking on a

icon launches the Switch Analytics Endpoints vPorts dashboard for the selected switch.
Switch Analytics EndPoints vPorts Dashboard
The Switch Analytics Endpoints vPorts dashboard auto-populates with pre-selected filters that includes the specific switch selected from the Topology dashboard.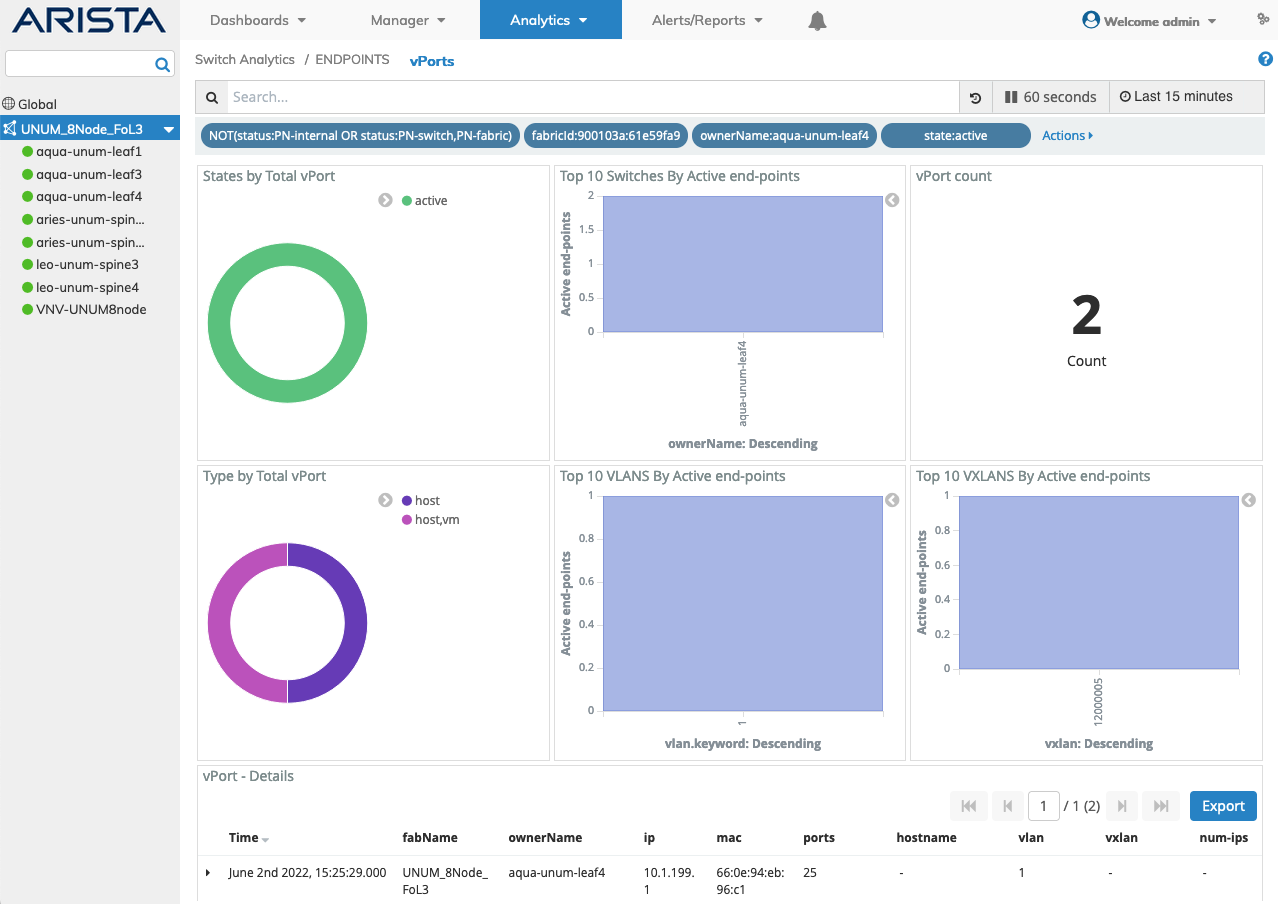 General Features - vPorts Connection Ports Analytical Data Dashboard
Search and Filtering functions work in a similar manner as described under the Common Features - Search & Filtering section.