Backup Settings
Backup Settings
There are features and functions used in UNUM Manager and UNUM Analytics that are common throughout the user interface (UI). Please refer to the Common Functions section for more information on the use of these functions and features.
Backup Settings: Enable Backup and enter backup configuration values. Backups are stored on an NFS Server (when configured) or the local UNUM instance.
Select Manager → Fabric → Maintenance → Backup Settings and enter the applicable configuration values in the Update Backup Settings window.
To enable/disable backups, use the Enable Backup selector switch.
UNUM provides a countdown to the next backup event.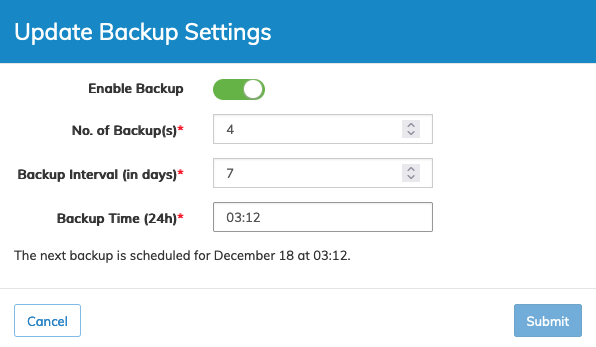 UNUM Topology Left-hand Navigation - Backup Settings Configuration
Click Submit to continue or Cancel to return to the previous screen without making any changes.
A confirmation message displays.
Note: After enabling Backup and by default, the daily job runs at approximately 3:00 am local time unless changed.