Projects
Projects
Selecting Menu Bar →

→ Projects displays the Projects dashboard. The Project tab highlights.
There are features and functions used in UNUM Manager and UNUM Analytics that are common throughout the user interface (UI). Please refer to the Common Functions section for more information on the use of these functions and features.
The UNUM Configuration Projects module provides a convenient method of creating Virtualwire Device Under Test Lab Projects within your UNUM instance.
UNUM functions associated with Project include:
Usage Note: Before collecting any analytics, add a Fabric and install and activate a valid license.

UNUM Default Project Dashboard
If no projects exist a No data exists! message displays.
Note: UNUM assigns Projects to UNUM Users. The default user is the administrator account. If you wish to attach projects to specific users, create the user account and its role using Manage Users.
Create a Project
As noted, if required, create a user role to be used with the project.
In the following example, a user account named "techpubs" exists in the UNUM instance with an ADMIN role using the Fabric, UNUM-8Node, and is assigned a Default Page to VirtualWire. When the user "techpubs" logs in, the user will land on the VirtualWire page.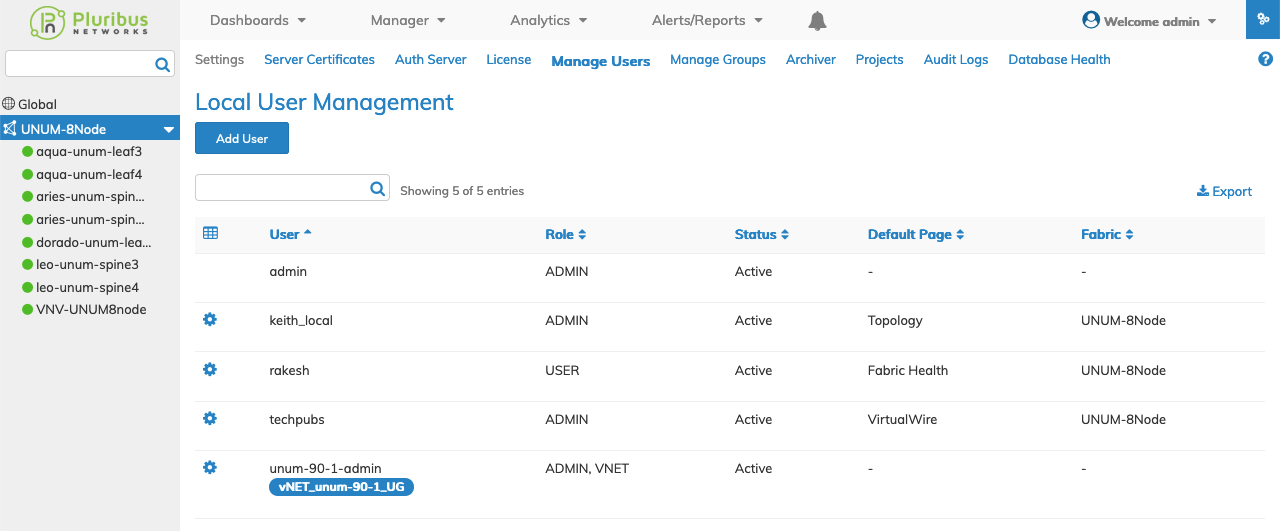 UNUM Local User Management Dashboard Example
To create the project, click Add Project.

UNUM Project - Add Project
Enter the applicable project values in the configuration screen.
•Project Name - Enter a name for the project.
•Owner - Assign a user account as the project owner.

UNUM Project - Create Project
Add more projects using the

icon. When complete, click Create.
The dashboard displays the newly created projects by Project Name.
Additional parameters include: Owner, Created By, and Creation Date.
The Project information is Fabric scope.

UNUM Project Dashboard - Populated
Edit a Project
To make changes to an existing project, click the cog icon

icon and select Edit.

UNUM Project - Modify a Project
Enter the applicable changes and click Update.
Delete a Project
To delete project, click the cog icon

icon and select Delete.
Use the delete project confirmation interface to execute the deletion by clicking either Delete Project & VirtualWires or Delete Project Only.
To cancel deleting a project, click Cancel.

UNUM Project - Delete a Project
Caution: Use care when deleting a project and its associated VirtualWire. If you wish to retain the VirtualWire connections for future use select Delete Project Only.
Using a Project in VirtualWire
Refer to Add a Device Under Test under VirtualWire for more information.