Layer 1
Manager Layer 1 Configuration
There are features and functions used in UNUM Manager and UNUM Analytics that are common throughout the user interface (UI). Please refer to the Common Functions section for more information on the use of these functions and features.
UNUM Manager provides for the set up and configuration of Layer 1 settings for switches. You need to select a Switch.
For more details please refer to the nvOS and Netvisor ONE Configuration Guides at www.pluribusnetworks.com/support/technical-documentation.
Note: Not all platforms support VirtualWire. Please refer to your specific Netvisor Release Note document available through the Pluribus Networks Customer Portal for more information.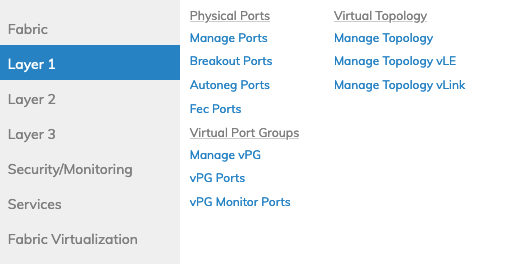 Manage Layer 1 Dashboard
Selecting Manager → Layer 1 displays all Layer 1 functions within UNUM. These include:
•Physical Ports – Physical Ports
•Virtual Port Groups – Virtual Port Group Functions
•Virtual Topology – Virtual Topology Functions