ZTP - Zero Touch Provisioning
ZTP

-

Zero Touch Provisioning
There are features and functions used in UNUM Manager and UNUM Analytics that are common throughout the user interface (UI). Please refer to the Common Functions section for more information on the use of these functions and features.
ZTP provides you with a method to configure bare-metal switches conveniently.
ZTP leverages the Open Network Install Environment or ONIE to apply the Netvisor ONE operating system onto a bare-metal switch.
At the end of this section, there is a video that walks through the process.
The ZTP workflow comprises:
1.Having the requisite information on-hand including: Hostname, IP Address, MAC Address, Device ID / Service Tag
2.Logging in to your Pluribus Networks Cloud Account.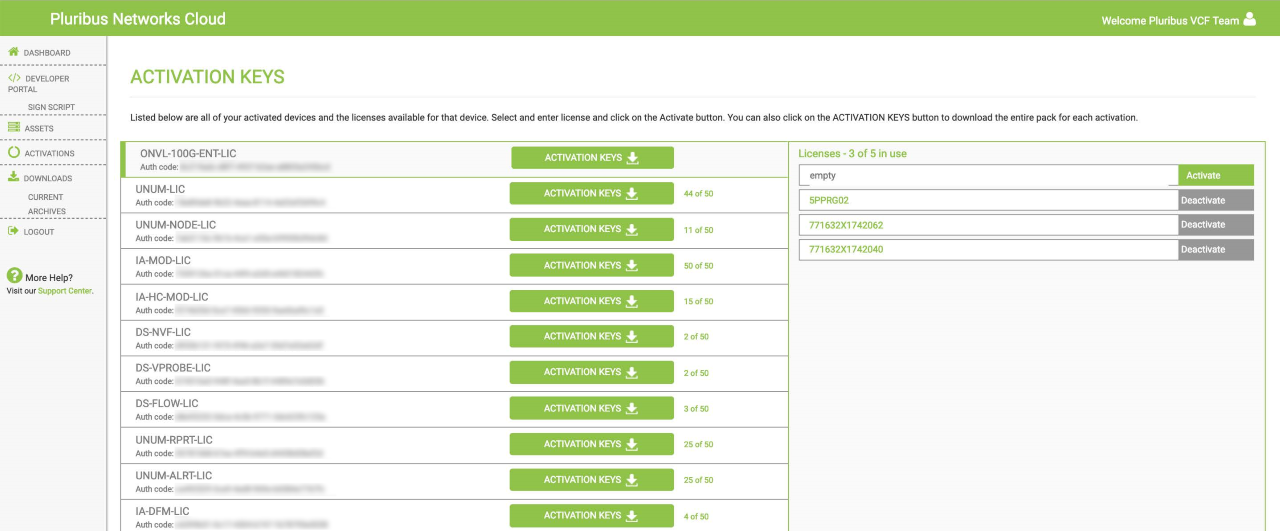 Pluribus Networks Cloud License Activation Interface
3.Activating a License in your cloud account.
a)Proceed to Activations and select the license to install on the switches.
b)Enter the Device ID / Service Tag for each switch and Activate.
4.Once the switches are activated, download the Activation Keys.
5.Download an ONIE Installer from the downloads section.
Note: If your instance of UNUM has access to the Internet during the ZTP process, you can select the specific installer you want within UNUM, and download the file and the individual license automatically.
Note: The Device ID /Service Tag and MAC address information can be found in the order documentation or on the sticker attached to the physical switch.
6.Configuring a ZTP Server. Go to ZTP Server.
7.Entering the required host information.
8.Configuring a ZTP Switch. Go to ZTP Switch.
9.Entering the required switch information. Refer to requisite information above.
10.Powering up the switches (no UNUM control).
11.Monitoring the provisioning process and waiting for the switch to come online indicated by the Status indicator in the ZTP Switch dashboard.
Functions included in ZTP are:
Pluribus Networks provides a series of instructional videos available to assist you in configuring Fabrics and using ZTP. These are:
•Pluribus UNUM Version - Zero Touch Provisioning
| | |
| --- | --- |
| | Use your mobile device to access the instructional video. |