Insight Analytics
Insight Analytics
UNUM Analytics is an add-on license for UNUM that enables users to view traffic flow patterns at a high level, then drill down via a series of dashboards and widgets to isolate fabric events. A Netvisor ONE switch directly collects flow metadata at wire speed through the Netvisor Flow (nvFlow) protocol and stores this data in an advanced database for rapid access.
UNUM stores flow metadata for up to 30 days in a FIFO (First In First Out) format, and up to a total amount depending on the version of UNUM purchased. The standard Virtual Machine option stores up to 100 million flows, the Dell VEP 4600, 500 million flows, and up to 2.5 billion flows for the High capacity UNUM cluster appliance. As of UNUM version 5.2.x, Insight Analytics is enabled in the default license for UNUM for up to one million flows to enable customers to get a feel for the tool and its capabilities.
Please note UNUM stores all TCP flow metadata, not just a random sample. Large or busy fabrics require the allocation of more memory to the connections storage setting per the Installation / Fabric Settings section of this User Guide.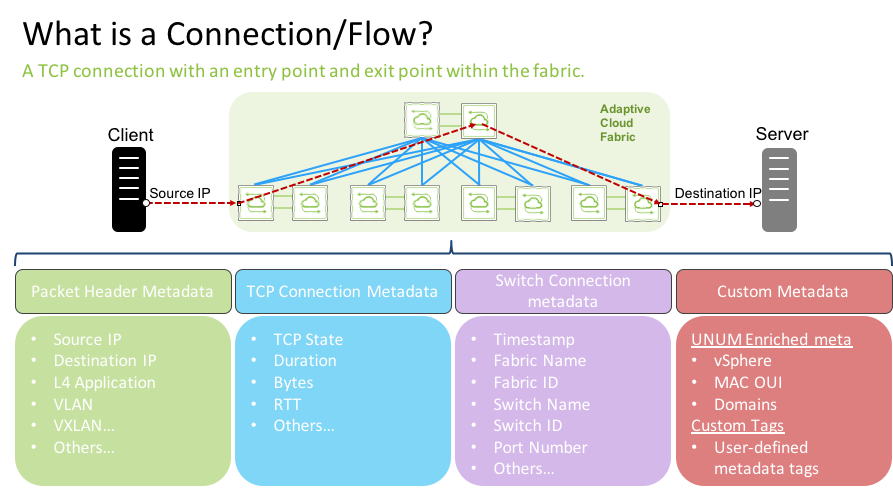 UNUM Connection / Flow
A connection or flow is simply a TCP connection within the fabric that has both an entry point and an exit point, such as a source and destination IP addresses.
UNUM collects a variety of metadata, including:
•Packet Header metadata
•TCP Connection metadata
•Switch Connection metadata
•Custom metadata
UNUM adds VMware vSphere, Original Manufacturer information based on OUI, and Geolocation data when possible. Administrators can also define and attach custom metadata to specific flows based on their specific business environment.
Note: vSphere metadata collection is an Early Field Trial (EFT) feature and requires enabling the VMWARE vCenter Connection Service on the fabric. Please refer to the UNUM supported features table on the UNUM homepage for more information on EFT features.
For more details please refer to the nvOS and Netvisor ONE Configuration Guides at www.pluribusnetworks.com/support/technical-documentation.
There are features and functions used in UNUM Manager and UNUM Analytics that are common throughout the user interface (UI). Please refer to the Common Functions section for more information on the use of these functions and features.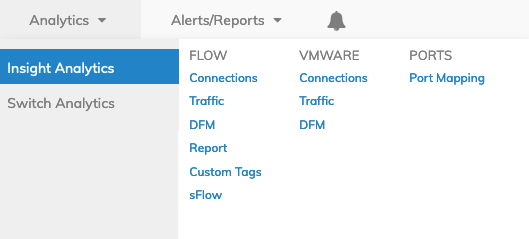 UNUM Insight Analytics
Selecting Analytics → Insight Analytics displays all Insight Analytics functions within UNUM. These include:
•Flow – Traffic Flow
•VMware – VMware Traffic
▪DFM - VMware Dynamic Flow Mapping
•Ports – Ports
Note: As of July 2021, sFlow is no longer supported.